The Deadline For The Top Twenty Entry Is JULY 1, 2022
Invited Dogs: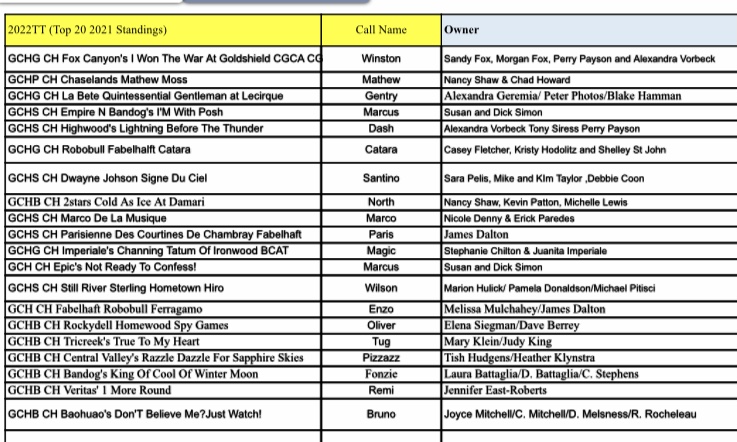 Please follow these steps to enter:
· Complete and Submit the registration form at the bottom of this page
· Submit your Top Twenty Entry of $150.00 through PayPay or pay by check.
· After the entry has been paid, please send the following information to Vivianne Mello, Vivianne.Mello@gmail.com
1. A three generation pedigree of your dog
2. A bio limited to 150 words
3. Two photos of your dog; photos must be 300 dpi
a. A full head shot
b. A full body shot profile
Congratulations on your dog's accomplishment!! Looking forward to seeing you at the Top Twenty Invitational this year.
The Top Twenty Committee
Donations can be sent to our Treasurer:
Susan Misch
4055 Forest St. Leonard, MI 48367
| OR | Click the Donate Button below:
• A $1,000 donation receives a complimentary two page spread
• $500 receives a full page ad
• $250 receives a half page ad
Entry Form for the Top Twenty
Click here to fill out your entry form
When complete, come back to this page and pay for your entry using the PayPal button below:
The committee promises to keep the evening moving and keep it fun!!!